From the Pastor
Welcome!
We welcome you to the web page of Grace Protestant Reformed Church. You are invited to explore the information which is available to you here.
We hope that your visit here will lead you to visit our worship services, if you are in the area. We come together for the purpose of worshiping our gracious God at 9:30 AM and at 6:00 PM each Sunday. You will find that our worship services are reverent and center around the preaching of the gospel, according to the Holy Scriptures.
It is our prayer that as you go through our web page that you will be encouraged and blessed in the way of seeing the Scriptures honored and God glorified.
If you should have any questions, please be sure to contact me.
Pastor Ronald Van Overloop
Grace Protestant Reformed Church (map)
O-11225 8th Ave NW
Grand Rapids, MI 49534
Sunday, August 23, 2015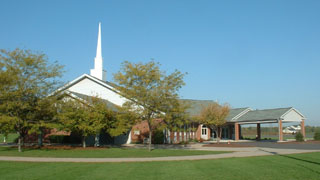 Glorying in Tribulations
Romans 5:3-4
9:30 AM Worship Service
Sem. Stephan Regnerus
Watch/Listen John 10:11
6:00 PM Worship Service
Prof. Russell Dykstra
Sunday, August 16, 2015
Watch/Listen John 14; Lord's Day 18
9:30 AM Worship Service
Rev. Ronald Van Overloop
Watch/Listen John 17:24
6:00 PM Worship Service
Prof. Barry Gritters
To hear more recent sermons, please visit Online Sermons.